Frank Gay Commercial has been working for over 45 years to give our customers gold-standard service and the best technology in the industry. Our Vacuum truck is the biggest and most advanced vehicle in our fleet. Specializing in excavation, transporting materials, and waste management, vacuum trucks can suction debris and water and are used for many of the services we offer.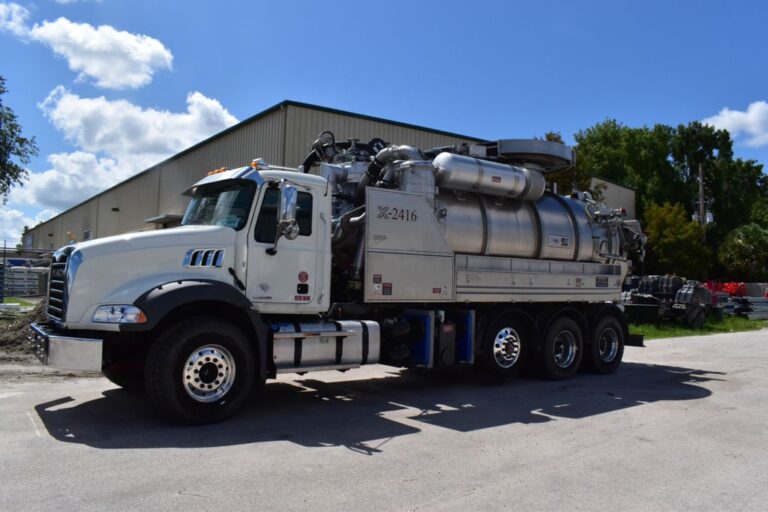 So how do they work? Vac trucks have pumps inside of them that create a vacuum by pulling air out. While a high-pressure jet breaks down soil, these pumps allow the truck to suction it all up. Frank Gay Commercial uses vacuum trucks for lift station maintenance, storm drain maintenance and cleaning, hydro excavation, sewer line cleaning and inspections, and emergency response. With the help of our vacuum truck, we can offer cutting-edge plumbing services to our Central Florida community.
Lift Station Maintenance
Lift stations use plumbing and electrical components to move wastewater from low elevations to high elevations. In the event of a malfunction, vac trucks are used to clean the area and suction up any materials, quickly repairing any wastewater emergencies.
Hydro Excavation
Hydro excavation is a non-destructive method that combines high-pressure water and vacuum technology to safely excavate soil and locate underground utilities. Vactor trucks are designed to perform hydro excavation, ensuring precise digging and trenching without damaging pipes, cables, or other critical infrastructure. This technique is highly sought after in construction, plumbing, and utility industries since it allows for accurate and efficient excavation while minimizing risks and ensuring worker safety.
Storm Drain Cleaning
Storm drain maintenance can be overlooked at times as a non-essential function, but it is needed in order to prevent flooding, water damage, and environmental pollution. Vactor trucks are the solution for quick and efficient maintenance, suctioning up leaves, branches, trash, and any other debris that may be blocking and accumulating in storm drains. Apart from debris removal, our trucks also offer sediment control and catch basin cleaning. Regular maintenance with Frank Gay Commercial not only protects the environment from water pollution and flooding but also prevents costly repairs.
Sewer Line Cleaning & Inspections
Sewer line cleaning and inspections are a Frank Gay Commercial specialty. Grease, sludge, and trash can all obstruct sewer lines, and with their high-pressure water jets, Vactor trucks are instrumental in sewer line cleaning. Vacuum trucks can also be equipped with camera inspection systems, allowing for thorough visual examinations of sewer lines to detect any cracks, leaks, or other issues. This advanced technology ensures accurate diagnoses and enables timely repairs, reducing the risk of sewage backups and costly damages.